Does your child need help exercising self-discipline and emotional control?
Our Lil' Dragons Kids Martial Arts class uses the Basic SKILLZ program to teach young kids to focus and to manage emotional outbursts in a fun and educational setting.
At times, teachers and parents can mistake the amount of self-control 5 and 6 year-olds may have. Though they may be better at following instructions and focusing on tasks than younger kids, they still need some help controlling themselves and paying attention.
A Few Words From Shigong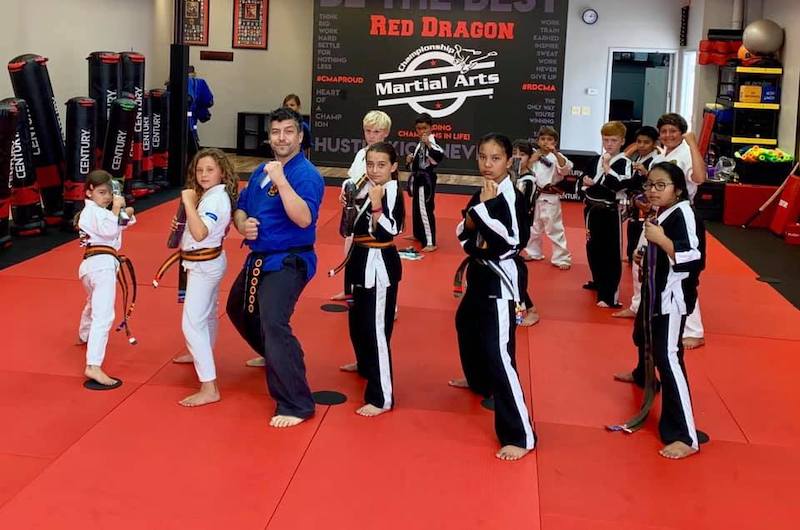 Shigong Guerrero is the Owner and Head Instructor here at Red Dragon Championship Martial Arts.

"As a martial arts instructor with extensive experience training kids, there is nothing better than seeing them grow firsthand. If there's anything more important than the martial arts skills they learn, it's the personal skills they develop and carry for life."

"Martial arts is so much more than just kicking and punching, and getting the next colorful belt. It's about developing confidence, discipline, character, focus and respect.
With every class we teach, your kids are growing in mind, body and character. That's because martial arts provides instant positive feedback. Through learning to focus on the core moves, they develop discipline and respect. They can instantly see and feel a difference, making them destined to build confidence, self-awareness and self-respect. And of course it's a ton of FUN!"

"That's why I love teaching martial arts to kids in this community, and I know your kids are going to LOVE training. Take a look below to find out exactly how your kids can benefit from our fun martial arts classes."

Thanks!
Does Your Child Need Help In These Areas?
Focusing
Listening Attentively to Adults
Controlling Anger and/or Emotional Outbursts
Exercising Discipline and Self Control
Sometimes, Parenting A Child Can Be Challenging
Luckily there is a comprehensive solution...
Kids that are 5-6 years old tend to have a bit more control than younger kids, but sometimes they need a little guidance when it comes to controlling themselves, their bodies, and their emotions. Young children can be intellectually curious and its best they learn in a disciplined setting.

Our Kids Martial Arts program gives your children the tools they need to succeed as they grow. Lil' Dragons will teach them the importance of self-discipline and self-control while building on the basic martial arts skills they learned in the Hatchlings program.

Your Child Will Grow With Every Class!
In the Lil' Dragons Martial Arts program, kids learn to control their bodies and behavior in a fun, social environment that encourages cooperation and respect. They'll also learn about teamwork, discipline, memory, and balance while practicing coordination and learning key martial arts moves.
Physical Fitness and Balance
When they are young, kids may struggle to control their bodies when they're in motion.

The basic martial arts skills taught in the SKILLZ program help them build muscle and improve their coordination.
Complex Memory Skills
At ages 5 and 6, children easily forget strings of more than three commands. They may also experience difficulty in learning left from right. Lil' Dragons Martial Arts program teaches them to focus on complex instructions and how to follow left and right commands without hesitation.
Stay in Control
Even when they experience strong emotions, Five and six-year-old kids tend to lose focus when they're excited – and to shut down when they're sad, angry or scared.
Kids Martial Arts focuses on teaching children to maintain control even when they are excited – and to stay focused even when it is difficult to do so.

Good Sportsmanship
Young kids tend to be competitive – and they don't handle losing very well.

In our program, they learn how to be good competitors, and that includes learning how to accept defeat gracefully and be supportive of their peers.

FAQs
Yes. Our classes teach kids to focus on teachers and to respect their commands – and those lessons take root at home, too.
Yes. The ups and downs of learning help kids learn how to navigate emotional highs and lows in a healthy and respectful way.
Our class teaches students to support one another and to accept mistakes and failures gracefully.
Yes. The fundamental martial arts skills taught in this class help build muscle mass and improve balance and coordination.
Yes. We teach kids the importance of paying attention and heeding instructions – and by building memory, we help kids do a better job of retaining information.
Yes. We focus on core social skills like mutual respect and understanding, both of which are essential in any social setting.
Yes. Our classes teach the value of persistence and show kids that shutting down when they are frustrated won't help them achieve their goals.
Yes. In our classes, kids learn to recognize the affect their movements and actions have on other people, and to control their movements when they are excited or upset.
More Benefits
Kids learn the benefits of humility and grace when they succeed in life.
Kids Martial Arts teaches core strength and balance while improving their overall physical fitness.
Using Basic SKILLZ, our Lil' Dragon's Martial Art classes teach kids to coordinate their body movements and to control themselves physically.
Our classes help kids learn to concentrate on instructions and follow them appropriately.
Kids in our classes learn how to play with other kids in a respectful way.
Basic SKILLZ classes help kids improve their memory as they work toward their goals.
Kids learn self-discipline physically, emotionally, and socially.
Teaches kids the value of teamwork and cooperation.